30 Seconds
Artistic Video Productions will script and storyboard your commercial. We will shoot live video at your location and provide professional voiceover talent, (off-camera broadcast narration) music, or a combination of both for the audio track
Camera Work up to 4 hours at $100/hr
$ 400
Initial Editing up to 4 hours at $75/hr
$ 300
Re-edit up to 2 hours at $75/hr
$ 150
Final Edit up to 2 hours at $75/hr
$ 150
Voice Over (talent & recording)
$ 225
Broadcast Quality Beta SP (1 tape)
$ 40
Streaming Video Preview
$ 60
Concept Development
$ 175
Logo/Graphics/Titles
$ 200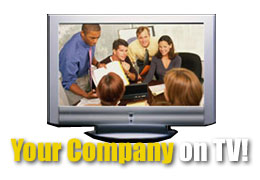 What Companies are saying about Artistic Video:
"I would happily recommend Artistic Video Productions to potential clients.
At all times, their work was carried out in a professional, efficient and friendly manner.
Based on their experience and expertise, Artistic Video was able to offer advice and information, which added further value to their service."
Click below for:
More Quotes
Testimonials