Houston TV Commercials
Artistic Video Productions specializes in full service Houston broadcast television commercial production, from on-location shooting to editing.
Since 1985, Artistic Video Productions has earned a reputation for technical and creative excellence; commitment to customer service; and consistent completion of Houston tv commercials on time and within budget.
Our team of qualified professionals will work closely with you through every step of the production process to create effective, affordable Houston tv commercials.
All Commercials include:
Up to Four Hours of Camera Time
Professional Portable Lighting
Wireless Microphone
No hourly charges for editing
Graphics, Titles, & Music
Promotional Videos
Broadcast Quality Voiceover
Streaming Video Preview
1 Beta SP for Broadcast (when applicable)
1 VHS Copy for Review & Approval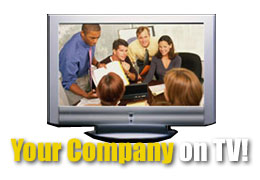 What Companies are saying about Artistic Video:
"I would happily recommend Artistic Video Productions to potential clients.
At all times, their work was carried out in a professional, efficient and friendly manner.
Based on their experience and expertise, Artistic Video was able to offer advice and information, which added further value to their service."
Click below for:
More Quotes
Testimonials